Featured Vacation Rental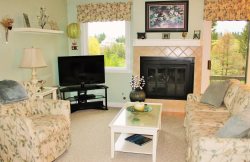 Executive 2 Bedroom Condo On The 9th Hole on Spruce Run Golf Course!
OCTOBER SPECIAL!
$150 OFF YOUR RESERVATION!

BOOK and STAY at any of our properties during the month of October (2 night minimum) and you will receive $150 off your reservation! You will also receive a FREE bottle of local wine, that will be waiting for you at the property when you arrive!
The fun is included in the reservation, all You have to do is PACK and join us at one of our great houses!
---
"Beechwood" Beautiful home with 100 feet of private sandy beach frontage on Grand Traverse Bay!

October 2017 - November 2017

This property has not only the most fabulous views of East Bay but one of the sandiest and nicest beaches on East Bay!A great location close to the Grand Traverse Resort, minutes from both downtown Traverse City and downtown Elk Rapids. Explore one fantastic town, or many....if you can pull yourself off of the beach that is. Call us to block off your week today!
---
"Big Sky" 3 Bedroom Condo On Spruce Run Golf Course

October 2017 - November 2017

Well maintained condo located on one of the nicest golf courses in Northern Michigan. The Grand Traverse Resort & Spa hosts some of the top courses. This condo features 3 bedrooms, 2 bath's, outdoor deck and sleeping accommodations for 6 people. An ideal location for trying your luck, not only on the golf course, but Turtle Creek Casino (as your only about a mile away). Who knows....you could get lucky!
---
"Riverside" Perfect spot for a fun waterfront retreat!

October 2017 - November 2017

Located on the Boardman River, this home comes with 3 canoes, 6 kayaks and many, many rafts to use. The home is nestled in a quiet, private setting yet only 10 minutes to the hustle and bustle of downtown Traverse City. Have fun and enjoy the house, as it's become a favorite vacation spot for many. This property is fantastic for entertaining outdoors on the cocktail deck that extends over the river, large firepit right by the rivers edge, large yard for games.
---
"Zen Den" Modern studio in the heart of Traverse City!

October 2017 - November 2017

This studio is truly an amazing place with the utmost use of a small place. Our owner went above a beyond in this showroom that we refer to as the "Zen Den". Peaceful, functional, exceptionally clean, one level living, and a location that is unbeatable! Brand NEW studio located in the heart of Traverse City close to downtown, shopping, dining and beaches. A beautiful unit that's suitable for a couple looking for adventure and to explore all of the treasures that the surrounding area boasts.
---
"Wild Flower" Private setting with cottage charm

October 2017 - November 2017

If you're looking for a quiet spot to relax at on your next vacation...this is IT! Exceptionally clean and updated, this cabin is located in a peaceful setting with a private path to the lake. Enjoy all of the modern conveniences of this two bedroom cabin; while having grills and and outdoor smoker for cooking your fresh catch of the day. End your day on the lake on one of the kayaks that come with the property.
---
"Tibbett's Lake" Great home with direct frontage on Tibbets Lake!

October 2017 - November 2017

Two levels, two kitchens and A/C...perfect for two families. Completely remodeled 5 bedroom home on 200 feet of waterfront! The extensive decking and landscaping as well as a gorgeous fire pit and multiple outdoor seating areas will just enhance your waterfront experience this summer at Tibbets Lake. This home is open and spacious and has a multitude of accommodations for a variety of guests and families alike. Enjoy two full size kitchens and living areas, as well as an upper deck and lower patio.
---
"The Bay" Waterfront Cathead Bay Vacation Home! With 200 Ft Of Private Frontage!

October 2017 - November 2017

Enjoy 200 feet of private waterfront at the popular Cathead Bay in Northport! This quaint 3 bedroom home features original hard wood floors, an open floor plan and nice size bedrooms....all on the main level in this ranch style home. Sit in the four seasons porch and enjoy the views of Lake Michigan and the sounds of the waves, or simply enjoy a glass of wine and finish that book you've been meaning to finish.
---
Tee Off"2 Bedroom Condo On The 9th Hole on Spruce Run Golf Course!

October 2017 - November 2017

Great place for golfers and families to spend a relaxing vacation! This executive condo is fully furnished with two bedrooms and located right on Spruce Run golf course! Close to Restaurants, Shopping, Equestrian Festival, Turtle Creek Casino and is right on the 9th hole! The condo is only 10 minutes to Downtown Traverse City; and features cable, wifi, AC, flat screen tvs, gas fireplace, front loading washer/dryer, full kitchen, porch with patio furniture and is on the ground floor!
---
"Outer Limits" Large Home Nestled on Long Lake Peninsula with Private Waterfront!

October 2017 - November 2017

Stay in your own lakeside retreat on Long Lake Peninsula with expansive breathtaking views! Take advantage oof all the four seasons has to offer......swimming & boating in the summer, or ice-fishing, skiing & snowmobiling in the winter; this home offers it all...all year round... This home is very spacious and features a lovely deck overlooking the lake, views of the water from the kitchen, living, dining and sun rooms, and has sleeping accommodations for 14 in a total of 10 actual beds.
---
"Le Petite Chateau" Affordable family vacation home! Features a canoe, grill, fire pit and picnic table!

October 2017 - November 2017

This is a perfect summer vacation spot for a family with kids. Bring their bikes and let the explore the area. There's so much to do here your kids will be busy and you can relax a bit. If you're looking for a more quiet beach....stroll down the sandy beach on Lake Michigan at the South Park Beach, or relax in the evening with a fire on the beach. This is truly a great summer getaway!
---
"Go Green" 3 Bedroom Condo On Spruce Run Golf Course! Exceptionally Clean With Gorgeous Views!

October 2017 - November 2017

This contemporary townhouse features 3 bedrooms and 2 bathrooms, located on Spruce Run Golf Course at the Grand Traverse Resort! Weather you are visiting for a few days or few months, location is key in Northern Michigan and this condo offers all the luxury of being close to Traverse City, Horse Shows By The Bay, Turtle Creek Casino, Grand Traverse Resort, Shopping and more!
---
"Glenwood" An Upnorth Vacation in Beautiful Leelanau County!

October 2017 - November 2017

Tastefully decorated home in reds, blues and denim that just make you feel at home. While placed in an up north wooded setting, enjoy downtown Glen Arbor a block away and the ever so popular Lake Michigan or Glen Lake. Stroll past quaint shops and enjoy local ice cream from the Nation's number one ice cream...Moomers! Tennis courts and a nice park are located behind the property.
---
"Bungalow" Charming Bungalow Available In Town!

October 2017 - November 2017

Take advantage of in-town living combined with the conveniences of this charming three bedroom home and you've got a winner for sure. Old charm with this Victorian home, painted original hardwood flooring, open space for entertaining and new furnishings throughout. Bring your family or a few friends and explore all that the area has to offer.
---
"Boat House" Huge yard for playing games...great family spot!

October 2017 - November 2017

Straight out of the Pottery Barn Catalog this home is tastefully decorated, updated and exceptionally clean. New updates throughout the home, along with personal family touches brings you this charming vacation spot that you'll want to return to year after year. The quiet setting, and available onsite watercraft, invite you to escape the big city, take a deep breath and simply relax.