Featured Vacation Rental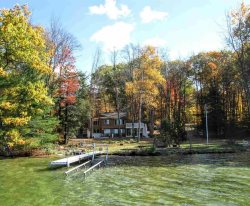 Hideaway on Long Lake with private frontage and dock.
Spring into saving on these beautiful vacation homes!!!




Spring has sprung and so have savings on several of our lovely vacation homes!

Take a look at these properties and save 20%-35% off during the month of May!

---
"Stone Pillar Farm" 4 Bed 1 Bath home
2375 W. River Rd. Traverse City Save 30% on a 2 night minimum booking in May! This lovely home is a brand new listing. Located just outside of town just minutes away from the Keystone soccer complex!

"Mother's Cottage" 3 bed 1.5 Bath
733 6th St. Traverse City, Save 30% on a 2 night minimum booking in May! Located just a few blocks from downtown TC.

"Zen Den" 1 Bed 1 Bath studio
952 Walnut st. Traverse City, Save 35% on a 2 night minimum booking in May! Just a couple miles from downtown TC, with easy access to the TART trail.

"Back 9" 3 Bed 2 Bath condo
5740 Hilltop Lane, Williamsburg MI, Save 25% on a 2 night minimum stay in May at this spacious condo located at the Grand Traverse Resort.

"Boat House" 3 Bed 2 Bath home
11423 Hanel Rd, Williamsburg MI, Save 35% on a 2 night minimum stay in May! Super cute home on Elk Lake with lots of room to play outdoors and take in the clean northern air!

"Tree House" 6 Bed 4 Bath home
2924 Cresent Shores Dr. Traverse City, Save 20% on a 2 night minimum stay in May.
Unique home with 1200 feet of direct frontage on Long Lake, located on it's own peninsula!

"Deuce" 3 Bed 2.5 Bath condo
952 Walnut St. Traverse City, Save 25% on a 2 night minimum stay in May! This condo with private balcony is centrally located just a couple miles from dowtown TC.

"A Little Luck" Studio
962 Walnut St. Traverse City, Save 25% on this cute studio when booking a 2 night minimum stay in May! You'll be the "Lucky" one being centrally located in this cozy studio.

"Civic Place" 2 Bed 1 Bath home
404 South Civic Center Dr. Traverse City, Save 25% on a 2 night minimum stay in May at this quaint home right across from the Civic Center and just steps away from the TART Trail.

"Fairy Tale" 2 Bed 1 Bath home
423 Fair St. Traverse City, save 15% in May when you book a 2 night minimum stay at this lovely home with fenced in back yard and within biking distance to downtown via the TART trail.

"Happy Trails" 3 Bed 2 Baths
645 Peninsula Trail, Traverse City, save 35% on a 2 night minimum stay at this cute home on Spider Lake with its own private dock.

"Lakeside Cottage" 4 Beds 2 Baths
4818 North Indian Lake Rd. Traverse City, Save 35% on a 2 night minimum stay. This is an inviting home on Indian Lake. This location is perfect for anyone who wants to just relax or play in the water includes row boat, kayaks and canoes! There is a large outdoor deck and backyard, fire pit, gas grill and your very own 200 ft of private water frontage.

"Cortina" 1 Bed 1 Bath condo Sleeps:8
6520 Schuss Mountain Ln. Mancelona MI, 49659. Save 35% on a 2 night minimum stay at this roomy condo located at Schuss Mountain Ski and Golf resort. Enjoy skiing, golfing, hiking, biking, disc golf, and indoor pool and hot tub...and so much more!

---
"Stone Pillar Farms"

Located on a large lot with plenty of parking.  Enjoy the volleyball court, and yard games along with a nice size firepit to unwind at after the long day.  There is a gas grill to use on the property, as well as a nice amount of chairs and a large picnic table for dining.  The farmhouse is right around the corner from the popular Keystone Soccer Complex, down the road to the Boardman River access for tubing and kayaking, and a short 10 minute drive to downtown Traverse City.
---
"The Bend"

Spend you next vacation with us in our new stunning home surrounded by the flowing waters of the river.  Situated on two lots, boasting 280 feet of private waterfront, large bedrooms, two fireplaces and windows that create some of the most incredible views you'll ever see in Northern Michigan. Complete with a pool tables, kayaks (2 singles and 1 double)....this private oasis is ideal for guests who want to explore and take advantage of the outdoors, as well as those who need to simply unwind and from the hustle and bustle of our busy lives.
---
"Beachcomber"

This beautiful home with many additional amenities that will make your stay here one that you'll remember for years to come.  Not to overshadow the pure sandy beach front (of course it's private) on Grand Traverse Bay, nor the fire pit and chairs that surround it for late night relaxing and listening to the waves while watching the sun go down. We just want to share with you the amazing screened in gazebo off of the large deck, decked with colorful flowers, vaulted ceiling with outdoor lights, and multiple tables and chairs for dining and entertaining.  Oh and of course there's also another outdoor hideaway to relax in...a sauna!  BUT not everyone likes to relax on vacation, so...go out into the clear blue water and kayak into the sunset or take an adventure or do yoga on a SUP (stand up paddle board)
---
"Cortina"

Fabulous location for all-sports activities and year round fun at the popular Schuss Mountain! Combine a great value with great memories this year on vacation.  With so much to do....who can get bored?!  Located in a prime location close to everything the resort has to offer and FREE transportation to the other 2 villages!  Enjoy skiing, golfing, hiking, biking, disc golf, and indoor pool and hot tub...and so much more!  The condo is across the street from EVERYTHING.... Let the kids swim, hit the cafeteria and play games while you hit the spa and play a round or two of golf.  Ready to start something new...and not have to break the bank?!
---
"Deuce"

Centrally located unit with private balcony, gas fireplace, vaulted ceilings, granite throughout the kitchen and bathrooms and beautiful hardwood floors.  Very nice and exceptionally clean with all brand new furnishings! Bring your bikes, or rent some through us!  Stroll downtown to experience fabulous shopping and dining.  Dive into the bay and play on the sandy beaches the area has to offer....all within walking distance to your beautiful condo.
---
"Four Seasons"

Enjoy the unsurpassed beauty and exclusive use of two private, spring-fed lakes at our Twin Lakes Cottage...come on, break free from the "big city"! Two boats and a canoe are provided to take full advantage of the lakes, as well as two marked trails (a 1 mile trail, and a 2 mile trail) to explore, hike, snowmobile or cross country ski on. Bring your camera and capture the woods filled with wildlife four seasons a year. We`ll provide the boats, swimming area, and trails around both lakes.... ....you just pack your bags!
---
"Happy Trails"

Take a peak at our new listing on Spider Lake!  This home is currently winterized; therefore the bedding and linens have been removed from the home.  As soon as we have some updated photo's we will update them immediately. Close to downtown Traverse City, yet set in a quiet location.  Enjoy 3 bedrooms; including a kids bunk room, and private dock for fishing off of and diving into the beautiful water of Spider Lake. Also included with this rental is a 2 person canoe for you to use during your stay! Open calendar, so block off your dates NOW!
---
"Le Petite Chateau

This is a perfect summer vacation spot for a family with kids. Bring their bikes and let the explore the area. There's so much to do here your kids will be busy and you can relax a bit.  If you're looking for a more quiet beach....stroll down the sandy beach on Lake Michigan, or relax in the evening with a fire on the beach. This is truly a great summer getaway!
---
"Mothers Cottage"

The finest location in town, historic Sixth St! Old world Victorian charm w/ modern floor plan. This home with a lovely cottage feel, is great for a family looking for walking access to downtown! Ride your bike, walk to the beach or go shopping!
---
"Tibbett's Lake"

Completely remodeled 5 bedroom home on 200 feet of waterfront! The extensive decking and landscaping as well as a gorgeous fire pit and multiple outdoor seating areas will just enhance your waterfront experience this summer at Tibbets Lake. This home is open and spacious and has a multitude of accommodations for a variety of guests and families alike. Enjoy two full size kitchens and living areas, as well as an upper deck and lower patio.